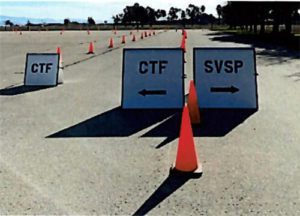 As of January 22, 2021, 0700 hours, all Correctional Training Facility and Salinas Valley State Prison (SVSP) staff is directed through the CTF Visitors Parking Lot for COVID-19 screening.
DIRECTIONS
As staff enter institution grounds, just past the CTF Entry Gate House, staff will turn "Right" into CTF Visitors Parking Lot. As you enter the Visitors Parking Lot, CTF staff please merge into the left lane and SCSP staff please merge into the right lane. Staff should follow the traffic cones and continue driving the length of the parking lot and turn "Left" at the end of the parking lot. The single CTF lane turns into two separate lanes allowing staff to be screened appropriately. Once cleared staff should exit the parking lot utilizing the roadway on the left. Credit Union Members please use the CTF Lane to access Credit Union.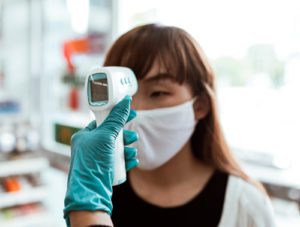 The healthcare questionnaire is as follows:
1: During the past 48 hours have you experienced any of the following symptoms:
Headache/ Fever/ Chills * Cough* Shortness of Breath or Difficulty Breathing * Fatigue * Muscle/ Body Aches * New Loss of Taste/ Smell * Congestion/ Runny Nose * Nausea/Vomiting * Diarrhea.
2: Within the past 14 days have you been in close physical contact (6 feet or closer for at least 15 minutes) with a person who is known to have laboratory confirmed COVID-19 or with anyone who has any symptoms consistent with COVID-19?
3: Are you isolating or quarantining because you may have been exposed to a person with COVID-19 or are worried that you may be sick with COVID-19?
Members must answer "No" to ALL questions in order to access the Credit Union building. A face covering continues to be a requirement while visiting the Credit Union. If you are experiencing symptoms or are under quarantine, please contact the Credit Union to discuss alternate methods of service. Thank you for your patience and understanding as we navigate the ever-changing mandates regarding slowing the spread of COVID-19. Corrections FCU is tirelessly working to mitigate any inconvenience that may arise when adhering to mandated changes to our daily operations. The health, well-being and financial soundness of all membership continues to remain our number-one priority.
Corrections FCU requires that a face mask/ face covering be worn while conducting business inside the branch. Corrections FCU will continue to operate Monday – Friday from 9:00 a.m. to 4:00 p.m. During our hours of operation, CU staff will continue taking measures to minimize the risk of exposure by frequently sanitizing work and common areas (such as desktops, door knobs, etc.), wearing gloves and face coverings while conducting transactions and ensuring that hand sanitizer is available for use at each station as well as entry points into the branch. Please contact the Credit Union if you are requiring assistance but do not have the required face covering to access the branch.
The Credit Union also offers a suite of electronic services so that our membership can access their account 24/7. These services include online banking & bill-pay, telephone banking (via 800 number), mobile banking app for Apple and Android with remote deposit service, and access to over 30,000 ATM's for cash and deposit needs. If you would like assistance in setting up any of our electronic services, your credit union staff is available to help.
Phone: (831) 678-2631
Fax: (831) 678-2094
Lost/Stolen Cards Debit Card: (800) 500-1044
Emergency After Hours: (831) 744-9466
5 Miles North of Soledad
Highway 101
Soledad, CA 93960
Email: info@corfed.com
Branch Hours
Mon – Wed: 9 a.m. – 4 p.m.
Thursday: 10 a.m. – 4 p.m.
Friday: 9 a.m. – 4 p.m.
Sat – Sun: Closed